Earn loyalty points on this purchase.
AT A GLANCE
Feeling sluggish, stressed, or under the weather? These shots are just what you need to recover and reset. Each elixir is loaded with cold pressed superfoods to flush toxins.
Excited to try all flavours of elixirs? Supercharge your health and buy a pack today! Bottoms up!
12 Pack Contains
3× Ginger Wellness Shots
3× Turmeric Wellness Shots
3× Wheatgrass Wellness Shots
3× Elderberry Wellness Shots
24 Pack Contains
6× Ginger Wellness Shots
6× Turmeric Wellness Shots
6× Wheatgrass Wellness Shots
6× Elderberry Wellness Shots
36 Pack Contains
9× Ginger Wellness Shots
9× Turmeric Wellness Shots
9× Wheatgrass Wellness Shots
9× Elderberry Wellness Shots
Ginger Wellness Shots
Well known for fighting bad bacteria, ginger provides just what you need to begin your wellness journey by knocking out any invaders that may have you feeling under the weather!
Why we love Ginger Wellness Shots:
Anti-viral properties
Natural immunity booster
Supports gut health
Soothes digestive system
Turmeric Wellness Shots
Get ready to feel good inside and out with the amazing benefits of turmeric and its ability to reduce the body's inflammatory response.
Why we love Turmeric Wellness Shots:
Powerful antioxidant superfood
Can help protect cells from damage caused by free radicals in the body
Can promote regular detoxification.
Wheatgrass Wellness Shots
Full of immune boosting antioxidants, this wheatgrass shot is your greatest secret weapon when it comes to staying healthy and well protected.
Why we love Wheatgrass Wellness Shots:
Rich in energy-boosting vitamins and minerals
Promotes blood sugar regulation
Anti-inflammatory properties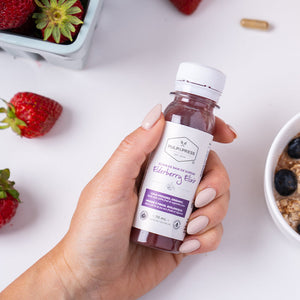 Elderberry Wellness Shots
Elderberry has your back this week with its antiviral properties, your immune system will thank you for the extra protection.
Why we love Elderberry Wellness Shots:
Powerful immunity booster
Anti-viral & anti-inflammatory properties
Natural free-radical fighting antioxidant
A daily wellness boost
Wellness Shot Variety Pack
Easy to incorporate into daily routine
Ways to Enjoy:
Drink the shot directly from the bottle and wash it down with a glass of water
Another option is to dilute the wellness shot in a glass of water or a smoothie.
All-natural Immunity Boosting Ingredients
Ginger Wellness Shot: Apple, Lemon, Ginger, Turmeric.
Elderberry Wellness Shot: Apple, Lemon, Ginger, Elderberry Extract
Turmeric Wellness Shot: Pineapple, Lemon, Turmeric, Black Pepper.
Wheatgrass Wellness Shot: Pineapple, Lemon, Ginger, Wheatgrass, Spirulina.
Goodness in every bottle
100% Organic: Only the highest quality, sustainably sourced organic ingredients.
Cold-pressed: Each wellness shot is cold-pressed, retaining the maximum nutritional value.
Only the Good Stuff: Never any additives, artificial flavours, colours or preservatives.
Frequently Asked Questions
What type of juicer do you use?
We use an industrial-grade, hydraulic cold press juicer to make each and every one of our delicious juices!
What are your wellness shots made of?
Our wellness shots are made of 100% organic, raw, fresh fruits, vegetables, and superfoods per bottle. Never any added sugar or preservatives.
Do you pasteurize your wellness shots?
No! When juice is pasteurized it is heated to a high temperature for a short period destroying the vital nutrients and enzymes of the raw juice.
We use High Pressure Processing (HPP) to keep our juice 100% natural so that you get 100% of the nutritional benefits.
Are your wellness shots frozen?
Our juices are fresh and never frozen, freezing can damage the live enzymes and nutrients. It can also cause the product to expand, leading to broken seals and early spoilage. Just keep the juices sealed and refrigerated to maintain their freshness! Please do not freeze your juice.
How long will my wellness shots stay fresh?
Kept refrigerated and unopened, our juice will maintain its freshness for up to 150 days from the date it was bottled. For optimal nutrient absorption, we suggest consuming your juice before the best before date. We do not recommend consuming juices that are beyond the best before date.
Where do you source your ingredients from?
We believe in supporting your own economy to build a stronger community. That's why we buy all of our ingredients, weather permitting, from local farmers and retailers.
Still have questions? Visit the FAQ.