Earn loyalty points on this purchase.
ABOUT THE JUICE
Looks like activated charcoal is the new black! Fighting toxins this new flavour calls for a solar-bration! You'll be howling at the moon with delight after your first sip. Balanced with maple syrup and lemon, the activated charcoal works to detoxify your body. Get ready for a total Eclipse of the heart.
*Do not drink Eclipse within 2 hours of taking any medication. 
Refreshing with a hint of sweetness.
Eclipse
Benefits
Activated charcoal is an all-natural detoxifier that helps remove toxins from the body—and it has no taste. Paired with lemon, this helps you feel refreshed from the inside out.
Ingredients
Cold pressed juice blend (water, *lemon, *maple syrup, activated charcoal).
*Organic.
Vitamins
Vitamin C -20%
Calcium - 4%
Iron - 2%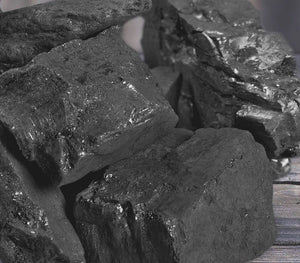 Activated Charcoal — The Natural Detoxifier
Activated charcoal is an all-natural substance that traps and flushes toxins from your body. It has a number of body and health benefits:
Helps alleviate gas, bloating, and stomach cramps
Helps cleanse the digestive tract
Can help lower high cholesterol
Can help reduce high levels of bile acids
Frequently Asked Questions
What type of juicer do you use?
We use an industrial-grade, hydraulic cold press juicer to make each and every one of our delicious juices!
What are your juices made of?
Our juice is made from 3-4 pounds of 100% organic, raw, fresh fruits, vegetables, and superfoods per bottle. Never any added sugar or preservatives.
Do you pasteurize your juice?
No! When juice is pasteurized it is heated to a high temperature for a short period destroying the vital nutrients and enzymes of the raw juice.
We use High Pressure Processing (HPP) to keep our juice 100% natural so that you get 100% of the nutritional benefits.
Are your juices frozen?
Our juices are fresh and never frozen, freezing can damage the live enzymes and nutrients. It can also cause the product to expand, leading to broken seals and early spoilage. Just keep the juices sealed and refrigerated to maintain their freshness! Please do not freeze your juice.
How long will the juice stay fresh?
Kept refrigerated and unopened, our juice will maintain its freshness for up to 150 days from the date it was bottled. When you receive your juice, you'll have at least 14 days before the best before dates printed on the caps (likely longer!). For optimal nutrient absorption, we suggest consuming your juice before the best before date. We do not recommend consuming juices that are beyond the best before date.
Where do you source your ingredients from?
We believe in supporting your own economy to build a stronger community. That's why we buy all of our ingredients, weather permitting, from local farmers and retailers.
Still have questions? Visit the FAQ.